hth® - ULTRA KLERAL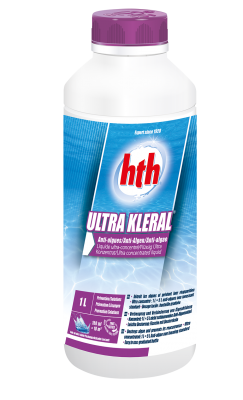 Caracteristics:
Destroys algae and prevents their recurrence
Advantages:
- Highly effective ultra-concentrate > 1 L is equivalent to 3 L of conventional algaecide.
- Non-foaming when the recommended dosing quantities are observed
- Algae prevention with long-term effect
- When disolved, it is compatible with the disinfectants and other auxiliary products of the water plant in the swimming pool
Available Formats:
USE BIOCIDAL PRODUCTS WITH CARE. READ THE LABEL AND PRODUCT INFORMATION BEFORE USE.
Instructions for use
100 ml per 30 m³ of water each week